*FTC Disclosure:All products recommended by LooPReview are selected by our editorial team, independent of our website. Some of our stories include affiliate links. If you buy something through one of these links,we may earn an affiliate commission.*
What is Wix?
Website building and hosting were never accessible before the creation of Wix, as it is an SMB-friendly website building and hosting platform with plenty of features to choose from for creating an online store.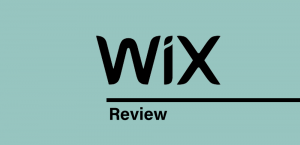 accessible websites for a simple and better browsing experience. Wix offers free hosting services for server maintenance and upkeep.
Advantages of Wix


Fantastic usability
Fully hosted
Free lifetime plans
Multiple payment methods, no commission at all.
Easy drag-and-drop editor
Amazing 3D effects
Wix strips
Marketing features with email marketing
Wix Suitability
If you do not have any site-building skills or know nothing about website building or hosting, Wix is the right choice for you. It has powerful functionality and easy-to-use drag-and-drop editor tools. Wix is best for those who want to do everything independently for their business and solutions for users and complete control of an online store without hiring a web designer or admin person. Wix offers quality templates created by skilled designers. New Wix Editor can be an ideal solution for designing and creating templates for a website. Choose templates of your own choice.
How to Use Wix?
Visit the official website http://www.wix.com and click on Get Started. After this, sign up to get your free account to use Wix. Wix Editor appears with multiple templates, simple to advanced, accessible, and premium templates. Changing the background is just a click away from choosing the images of your choice. Wix features are stripes to create a design, adding raw text, editing the texts with multiple available options, and listing the products on the homepage by clicking plus button.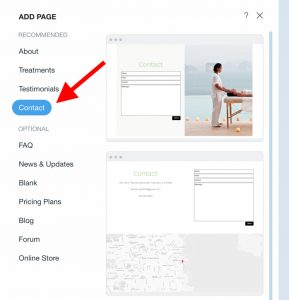 Wix Strips
Wix Editor uses Wix strips, as the Wix team calls them. Designing every page with multiple strips is what Wix does, and stripes are stacked on each other to select and work on a specific strip. Every ribbon has a particular purpose or information you wish. For instance, it can be a list of products for an online store, an image or text, or social media icons. By default, there is one strip on any template; later, you can add more by choice.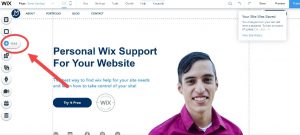 Wix Pricing and Plans

Let us discuss the most crucial part of this review. How much does Wix cost?
Wix offers a 100% free plan that lets your test it and gets experience with the platform. When you launch the site, after creation, it is available as YOURSITE.Wix.com. The most important thing is that free plans permit the user to create an online store and test it, but availability to the public is when you upgrade to a premium plan for $18 per month. If you compare it with other stores like Shopify, which costs $29 per month, Wix is low in price plans.
Free plans allow the users to test the platform before upgrading if it fits your need, you can purchase a premium plan.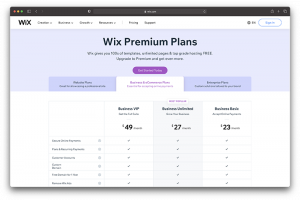 Wix Conclusion
Free plans, testing everything free, designing, building hosting, multiple payment options, and various other features make Wix better than the other platforms.