*FTC Disclosure:All products recommended by LooPReview are selected by our editorial team, independent of our website. Some of our stories include affiliate links. If you buy something through one of these links,we may earn an affiliate commission.*
If you are a true patron of digital photography, you should need better photo editing softwares. Some have unique AI features, which detect the one and weak areas of the image and correct them automatically. The final product is better than the original image. This article comes with a review of a promising AI photo editing software with the name Gigapixel AI. Let's review its latest version and all the updated features.
What is This Software?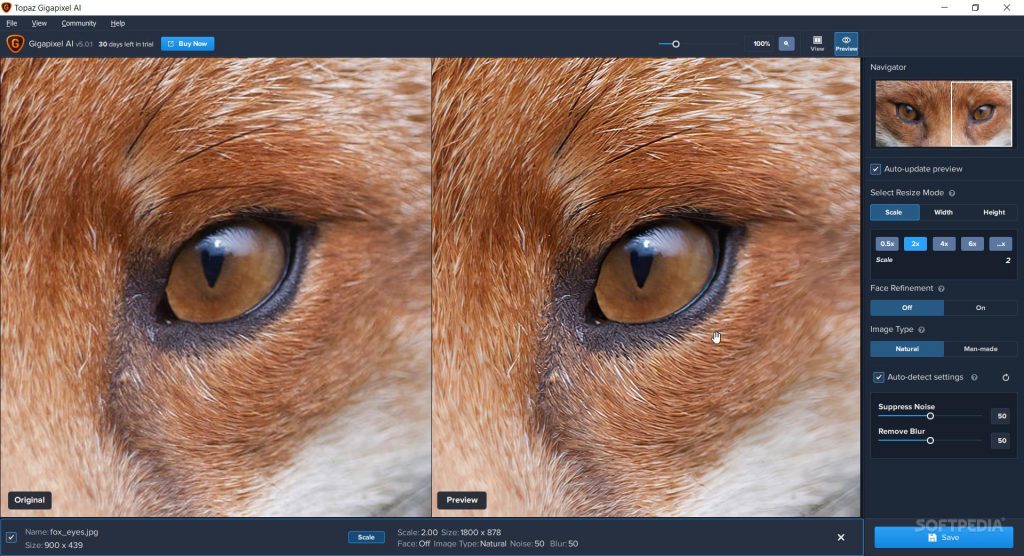 Gigapixel AI is a standalone image editor. It uses advanced machine learning algorithms to detect your image and upscale it. While enlarging your photo adds details to those areas, enhancing an enlarged image's overall quality. The final result has more information than the one you began with while editing.
Gigapixel is also available as a plugin for the two most used softwares when it comes to image editing. Adobe Lightroom Classic and Adobe Photoshop.
How Much Does It Cost?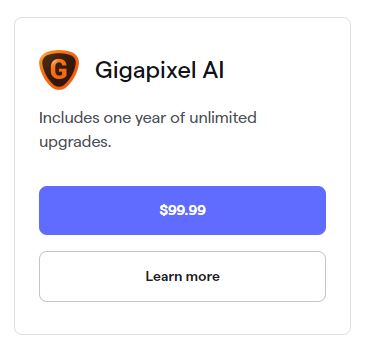 Currently, the software is available for $99, and there is a 15% discount when you use the promo code FRIEND15. Nevertheless, if you want advanced software to take care of all your photos, this one provides an excellent value for your money.
You can also download their latest version, 6.1, for free and use it without a credit card. There is an unlimited trial period, but the downside is that all the processed photos will have a big Gigapixel watermark. You can remove this watermark by purchasing the software.
How Easy to Enlarging The Photo
First, select the photo you want to upscale from the archive, and proceed to the scale tab. Here you will find preset values which you can use, or if you have personalized dimensions, you can type them. The AI software will update your photo; if you like it, you can export it.
Making Fine Adjustments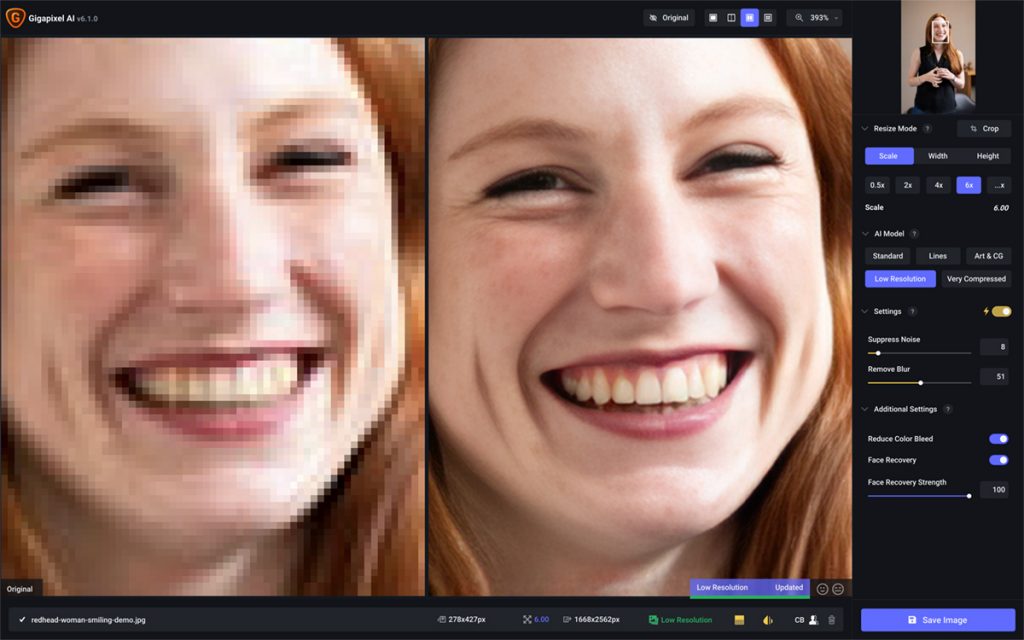 Five AI models in the latest version of this software can help you manually adjust the details of your photo. These AI models can help you achieve better information if you are unsatisfied with the original AI adjustments. Moreover, there is a set of other settings which you can apply to enhance further details. Settings like Face Recovery and Color Bleed are only available in the latest version.
Exporting the Image
You can export the enlarged photo in various formats, including JEPG, TIFF, PNG, and DNG. You can also use variable compression rates and bit sizes wherever applicable.
Speed and Performance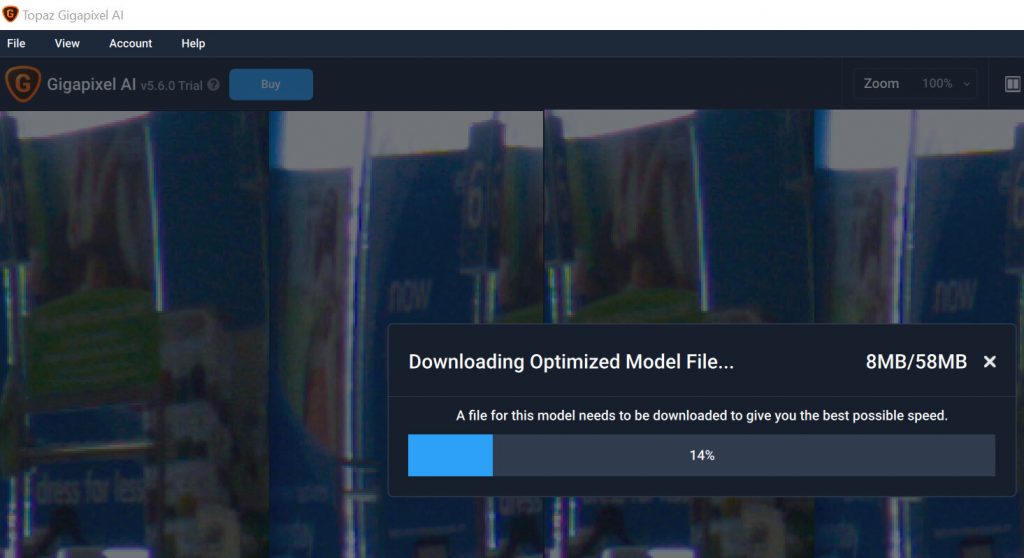 The earlier versions of this software had a significant issue with the speed of its AI editing, which took longer than expected. We go for the AI models, which download them separately over time. In the latest version, they have the option to download all the AI models for the selected image upfront. This option can save time during manual editing.
But this delay is reasonable if you plan to upscale an image up to 600%.
Final Verdict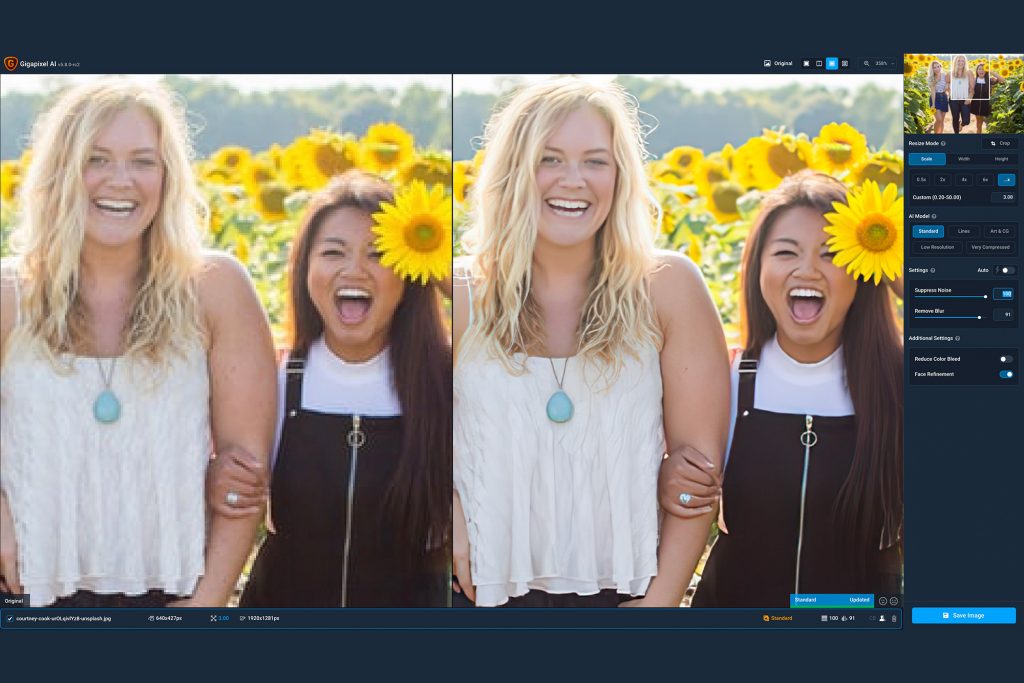 Gigapixel provides a convenient AI editing approach to enlarge your images by adding minute details to enhance the quality. Furthermore, it is affordable, and with the available promo code, it is a no-brainer.