*FTC Disclosure:All products recommended by LooPReview are selected by our editorial team, independent of our website. Some of our stories include affiliate links. If you buy something through one of these links,we may earn an affiliate commission.*
Shoptimized is a trusted branded community for entrepreneurs to exchange insights to enhance sales and distinguish themselves in design. This unique theme aims for eCommerce businesses. In this review, a comprehensive and honest evaluation of the Shoptimized theme will help the readers to know the features, advantages, restrictions, costs, and discounts. This theme has great conversion rates to convert users into customers.
Shoptimized Theme; an Effective Shopify Theme
Shoptimized theme uses social proof, authority, and scarcity to convert visitors into customers. These three techniques are psychological techniques to entice users to be customers. Social proof is the base that enchants users to be customers as the users can read previous customers' reviews and decide to purchase a product. This theme uses a variety of ways, like testimonials on the homepage and displaying positive reviews to entice users.
The presence of authority gives users the confidence to purchase without fear of deception or fraud. Shoptimized theme has placed a banner in the header to put evidence to show the credibility of online business.
Scarcity is the technique used by the website owner to showcase countdown timers and low stock notice to customers to entice sales. The users try to purchase at once when they get a low stock message. This technique is perfect for increasing sales.
Features of Shoptimized Theme
Features of any theme distinguish it from its competitors, and this theme is mobile-friendly for better user experience and loading speed. This theme is for a lifetime in a one-time payment and provides 24/7 support without extra cost. Its official website has various positive reviews and prices no more than $167 for pro and ultimate plans. It gives a trust badge on products to increase sales and quality.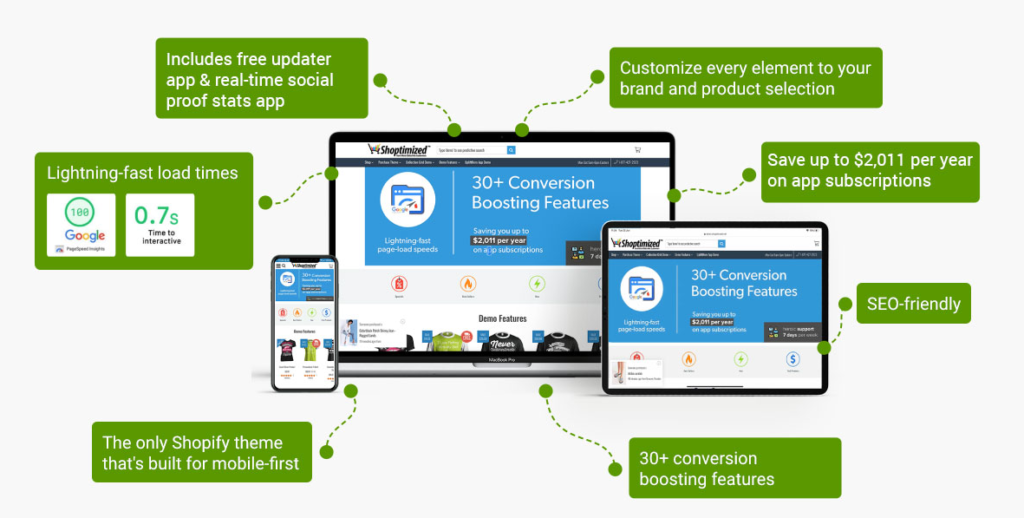 This theme is straightforward to navigate and adds effects to load when the page is scrolled. When a customer adds anything to the cart but later decides to skip or add a new product, he can directly go to add to the cart page and click on the checkout page or skip the product. Its mega menu provides a dropdown list of sub-categories for best-selling goods and products. Shoptimized Theme permits owners to display positive reviews on the homepage or at the bottom of an online shop.
Shoptimized Theme Price Plans
This theme is available in three plans; Basic, Pro, and Ultimate. It is available for $167 for a one-site license and $394 for three-site permits, and $597 for ten shop licenses. It is suitable for eCommerce business owners striving to increase company size and sales.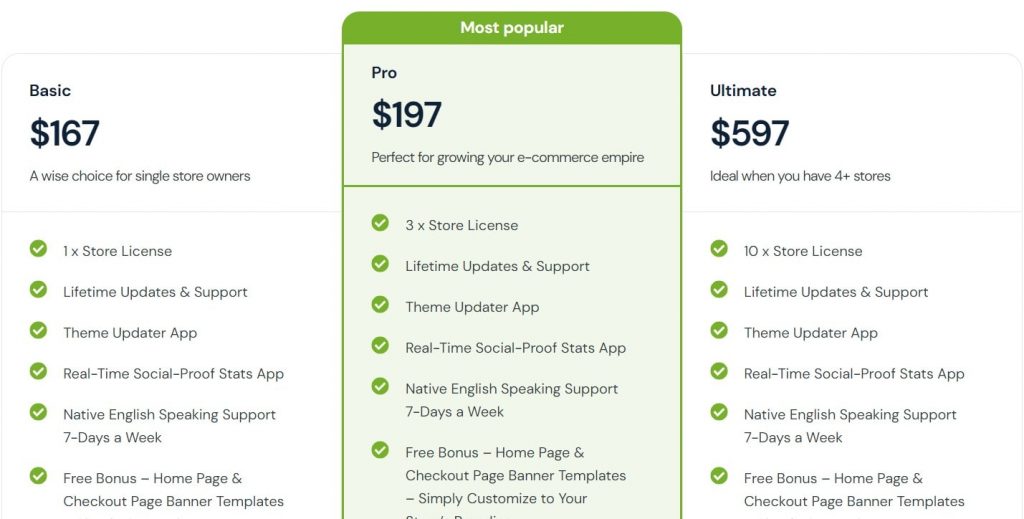 This premium theme costs more than Shopify theme providers because of numerous essential features, desktop capabilities, and a mobile-friendly user interface. The price offered is a one-time purchase for lifetime use. It costs no further fees and also offers coupons and discounts.
Final Thoughts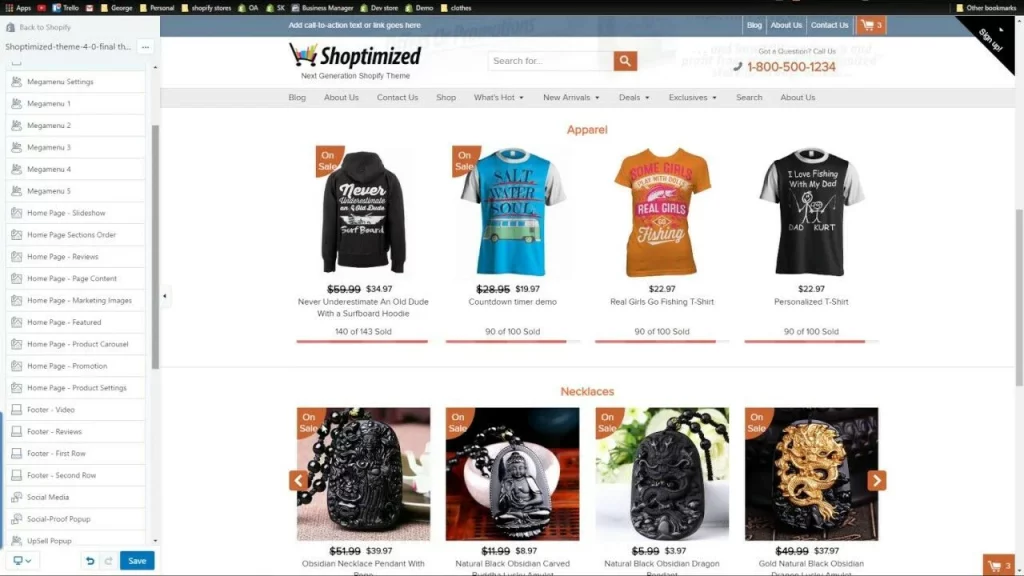 A shoptimized theme is the best choice for Shopify store owners because it contains over 30 conversion boosting features, a free updater app, and mobile friendly interface.
Its wow features are complete and customizable design, increasing brand loyalty, enhancing business purchases, and an affordable one-time price for lifetime usability.